Gauge & Fixture Repair and Maintenance
ComPuTool Gauge & Fixture repairs and maintains gauges and fixtures. While we prefer to maintain our own fixture builds, ComPuTool will maintain and repair gauges built by third-parties. We also service third-party gauges that require fixes to their operation and functionality.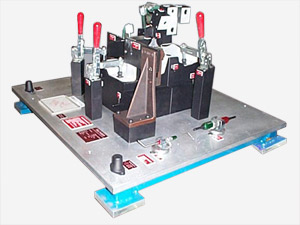 Fixture Design for Ease of Maintenance
ComPuTool's gauges and fixtures are designed for easy maintenance. When possible our fixtures are made from standard catalog components that are readily available. All of our gauges are easily cleaned. Large fixtures are designed with clearly marked openings for a fork-lift in the base for easy material handling. Our gauges and fixtures have handles or tapped NPT holes for lift rings.
ComPuTool Gauge & Fixture maintains an inventory of standard fixture components for emergency maintenance.